1914-15 Star
(single)
To:
15736. L/Cpl A.A. WOOD.
6th Bn, Duke of Cornwall's Light Infantry.

ALFRED ARTHUR WOOD
(Killed In Action)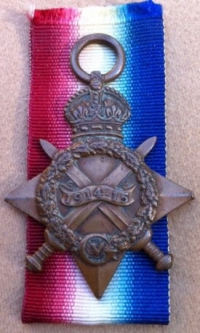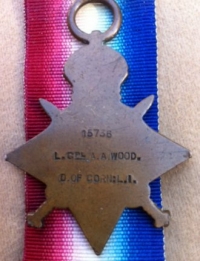 Friday 18th August 1916
Delville Wood.
SOMME.
A medal from one of the classic actions of WW1. Having been in the front line since 16th August and in severe hand to hand fighting between 17th -18th August the lads of 6th DCLI took shocking casualties in the south east corner of the infamous Delville Wood at 'Hop Alley' and 'Edge Trench'.
An officers comments were " A day of shocking casualties (sustained) while charging German Trenches in the Strongest Positions"
The Unit lost 360 dead between 18th -20th August 1916.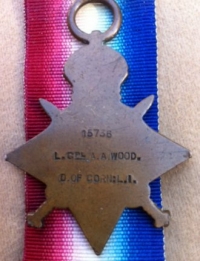 If you have the other two medals and / or plaque to L/Cpl A.A. WOOD you will be delighted to see that his star has finally shown up. Light contact wear to the lateral points of the star. Other wise VF+
This brave soldier has no known grave and is commemorated with honour on Thiepval Memorial Pier and Face 6B.

A RARE MEDAL TO ONE OF THE MOST FAMOUS ACTIONS OF THE GREAT WAR.
£SOLD
'GOING HOME TO THE FAMILY
of L/ Cpl WOOD'