Merchantile Marine & War Medal Pair
(Killed in Action)
To: GEORGE WATT. 'Sailor' S.S. Lough. K.I.A. 30th March 1918. Aged 33.
Son of the late George and Margaret Watt.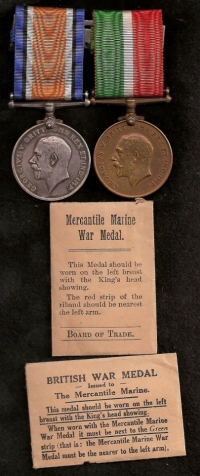 Sailor George Watt was part of the crew of 13 of the S.S. LOUGH FISHER which was a small 418 ton steamship. It was intercepted 12 miles S.S.E. of Helvick Head on March 30th 1918 by a German Submarine which opened fire from the surface and sank the ship. The captain and 12 crew were all killed.

The pair comes with their two original medal packets and two original official letters which were obvioulsy adressed to GEORGE WATT (Senior), Watt's father.
The letters are a little confusing because as father and son both had the same Christian name "George" the clerks at the Board of Trade obviously assumed that George Watt (Jnr) was still alive as one of the communications (written 16th June 1921), is the official letter telling the deceased that his medals had been awarded to him. The "authority to wear" card is also "signed" by a Geo Watt as 'holder' (stamped in 1919 and 1921) so presumably the deceased man pre-signed the card at some point prior to his death.....an odd state of affairs.