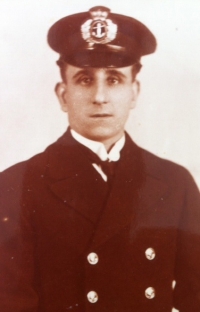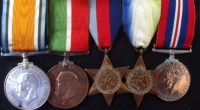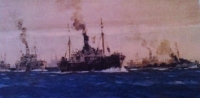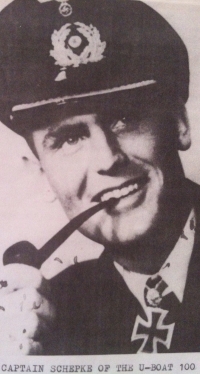 The Extensive "Barrat" Family Grouping of 13 medals to three recipients.(1) MERCANTILE PAIR & WW2, Group of FiveTo:
George Frederick Bernard BARRAT.(Ships Cook & Baker)

Born on 15th April 1892 at 19 Whitwell Road, Plaistow, London, G.F.B. Barrat saw sea service from the age of 20 in 1912. [MINED]

During WW1 he was mined in the Mykoni Channel in the Aegean Sea on 23rd November 1916 during the famous incident involving H.M.Hospital Ship BRAEMAR CASTLE. Four men were killed but the crew managed to beach the ship.

[TORPEDOED]

During WW2 as part of convoy HX-72 (Nova-Scotia-Liverpool) he was torpedoed while serving in S.S. CANONESA in the North Atlantic by U-100 (Capt Schepke) on 21st September 1940 at 11:10pm off the west coast of Ireland. Barret had apparently just come off duty and was having a shave when the torpedo struck. Wearing only his pyjamas he managed to get a few things together in the darkness as the lights had failed, before finding his way to the lifeboats.

The German submarine U-100 was working in a pack with U-99, U-48 & U-32 . Seven other ships were sunk that night & the following morning four more suffered the same fate. Miraculously only one crew member was killed and the remainder were picked up by H.M.S. La MALOUINE. As survivors of other ships were also on board this very small sloop, conditions were very crowded, but Barrat who managed to bake bread for everybody while still at sea was highly commended by the captain.G.F.B. Barrat Died of pancreatic cancer at 144 Neville Road, London on 12th April 1963 aged 71.
(2) WW2 Group of 7 inc Norwegian War Medal. To:

George Reginald BARRAT.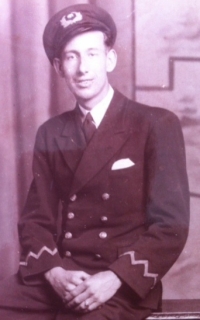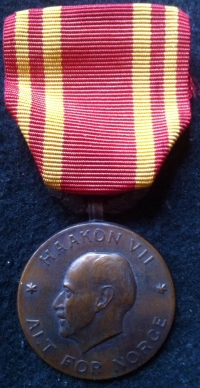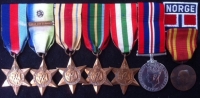 George Reginald Barrat was born 8th January 1922 and saw sea service from 1938 'till 1948. He served during WW2 and from 1938 complete two circumnavigations of the globe and many other very long voyages. From 1942 he served on several Norwegian merchant ships which generally carried dangerous cargos of explosives. On 3rd October 1979, for his service to Norway he was awarded the Norwegian War Medal by King Haakon VII. (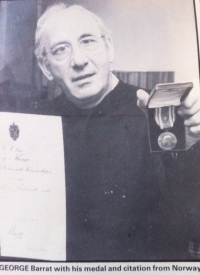 boxed medal & charter present )



With S.C. Police medal. To. G.D. Barrat.An excellent multi-generational three man family assembly. With one other member who does not have any medals or photos. This was "Great-Grandfather" GEORGE FREDERICK BARRAT ( Born 6th March 1861 ) who also followed a seafaring career but who died while away from the UK and during 'mid-voyage' at the Royal Adelaide Hospital, Australia on 28th May 1912 of T.B. & Nephritis whilst in port from S.S. BUTESHIRE. Apparently a heavy drinker who was probably ill before he left England he fell down the engine room steps and was taken to hospital in Adelaide where he passed away. WITH COMPREHENSIVE & HIGHLY DETAILED FAMILY RESEARCH .....A SUPER ASSEMBLY. £795.00. Part-Exchanges Welcome.