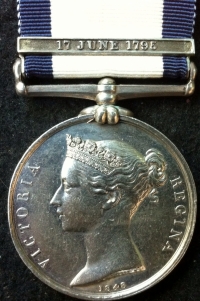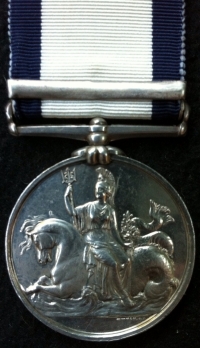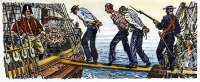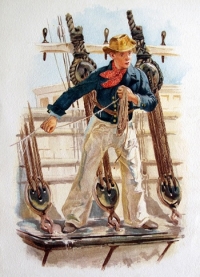 An Excessively Rare

NAVAL GENERAL SERVICE MEDAL

(12 JUNE 1795)

To: Landsman. Thomas JOHNSON (H.M.S. MARS) ALMOST CERTAINLY A VICTIM OF THE INFAMOUS QUAYSIDE "PRESS GANG" Took Part in the Famous "Cornwallis's Retreat, which was one of the very earliest actions to be recognised by the issue of an N.G.S. clasp. (*Only about 40 clasps were issued, with perhaps only 5 surviving extant single clasp medals.) Cornwallis's Retreat, June 17, 1795, by Thomas Luny, 16th–17th June 1795

[HMS MARS, 3rd CLASS SHIP OF THE LINE]

In the early part of the French Revolutionary Wars HMS MARS (74) was assigned to the Channel Fleet. In 1797 under Captain Alexander Hood she was prominent in the Spithead mutiny. In 1798 at the Battle of the Raz de Sein she fought a famous single-ship duel with the French seventy-four Hercule, in the dusk near the Pointe du Raz on the coast of Brittany. Hercule attempted to escape through the Passage du Raz but the tide was running in the wrong direction and she was forced to anchor, giving Captain Hood the chance to attack at close quarters. The two ships were of equal strength, but the French ship Hercule was newly commissioned and after more than an hour and a half of bloody fighting at close quarters she struck her flag, having lost over three hundred men. On Mars 31 men were killed and 60 wounded. Among the dead was Captain Hood.

[THE FIGHT BETWEEN MARS & HERCULE]

HMS MARS also fought at The Battle of Trafalgar where she was heavily damaged as she took fire from five different French and Spanish seventy-fours. Among the 29 killed and 69 wounded in the action was her captain, George Duff.

[CORNWALLIS's RETREAT]

This action was a famous naval engagement during the French Revolutionary Wars in which a British Royal Navy squadron of five ships of the line and two frigates was attacked by a much larger French Navy fleet of 12 ships of the line and 11 frigates. The action took place in the waters off the west coast of Brittany on 16th–17th June 1795. A British naval squadron under Vice-Admiral William Cornwallis began operating off Brittany on 7th June. In the following week they attacked a French merchant convoy and captured several ships. In response, Admiral Villaret de Joyeuse led the main French fleet out of port to attack the British, who were spotted on 16th June. Heavily outnumbered, Cornwallis turned away from the French and attempted to escape into open water, with the French fleet in pursuit. After a full day's chase the British squadron lost speed, due to poorly loaded holds on two of their ships, and the French vanguard pulled within range on the morning of 17th June. Unwilling to abandon his rearguard, Cornwallis counter-attacked with the rest of his squadron. A fierce combat developed, culminating in Cornwallis interposing his flagship HMS Royal Sovereign between the British and French forces. Cornwallis's determined resistance, and his squadron's signals to a group of unknown ships spotted in the distance, led Villaret de Joyeuse to believe that the main British Channel Fleet was approaching. Villaret therefore broke off the battle on the evening of 17th June and ordered his ships to withdraw. This allowed Cornwallis to escape and he returned to port at Plymouth with his squadron battered but intact. Villaret withdrew to an anchorage off Belle Île, close to the naval base at Brest. The French fleet was discovered there by the main British Channel Fleet on 22nd June and defeated at the ensuing Battle of Groix, losing three ships of the line. Villaret was criticised by contemporaries for failing to press the attack on Cornwallis's force, whilst the British admiral was praised and rewarded for his defiance in the face of overwhelming French numerical superiority. The battle has since been considered by British historians to be one of the most influential examples, "of united courage and coolness to be found in British naval history" [A SPECIAL NOTE ABOUT THIS MEDAL:] This 100% totally correct and fabulously rare medal recently appeared at a London auction house but was unsold due to a series of shockingly inaccurate, totally incorrect & frankly 'school boy' amateur descriptions by the cataloguer. We have therefore 'rescued' it and herewith proudly offer it for sale with a correct professional description based on our 40 years of full time expertise in this particular series.

[DESCRIPTION]

ABOUT EF / REVERSE BETTER, With light contact marks to obverse portrait & fields. Rim with quite normal & very minor contact marks due to a long ago previous wearing with other medallic awards. The entire claw suspender, swivel pin, clasp and ribbon bar fitments are 100% correct in all and every respect and are guaranteed never to have been off the medal and are 'as fitted' to THIS medal in 1848 by the Royal Mint official badge makers.

A SERIOUSLY LOVELY MEDAL OF THE VERY RAREST STATUS & DESIRABILITY.

SOLD

with part-exchanges welcome.