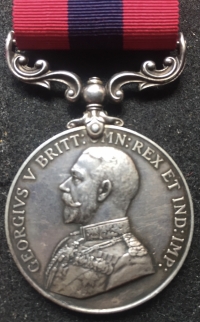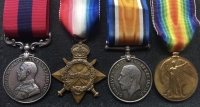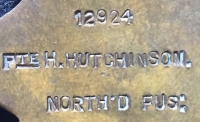 AN EXCEPTIONAL & OUTSTANDING "SOMME-MAMETZ WOOD"

(SERIOUSLY WOUNDED)

DISTINGUISHED CONDUCT MEDAL

& 1914-1915 Trio. To:

12924. Private H. HUTCHINSON, 9th Bn NORTHUMBERLAND FUSILIERS.

(ORIGINALLY REPORTED MISSING & INCORRECTLY RECORDED AS DEAD on 6th JULY 1916)

[A VERY BRAVE SOLDIER]

Private Henry Hutchinson was 26 when he volunteered to deliver a critically important message across the Somme battlefield at Mametz Wood while under withering enemy machine gun and artillery fire. He had almost reached his destination when he was badly hit by an explosive shell which completely shattered his right leg and badly wounded him in the left arm. He then literally crawled and dragged himself the last few hundred yards through much debris and badly cratered ground in shocking pain and in a dreadfully bloodied state, all on one knee and with only one working arm until he arrived with his message.

His right leg was later partially amputated mid-thigh and he was awarded a pension of 32/- shillings per week with an extra payment of 3/6d per week due to his magnificent bravery and subsequent DCM award.

[CITATION]

DISTINGUISHED CONDUCT MEDAL.

(London Gazette 22 September 1916) "For conspicuous gallantry and determination. He was the bearer of an important message, and, when close to his destination, his leg was shattered and was was wounded in the arm by a shell. In spite of his wounds he dragged himself through the debris and delivered his message."

[THE NORTHUMBERLAND FUSILIERS IN FRANCE]

Private Henry Hutchinson attested for the Northumberland Fusiliers, and served with the 9th Battalion during the Great War on the Western Front from 15 July 1915. He was awarded his D.C.M. for his gallantry at Mametz Wood, Somme, in 1916. The Battalion casualty returns, incorrectly record Henry as being killed in action on 7 July 1916, whilst serving in 'A' Company, when the Battalion was involved in an attack on Quadrangle Trench, near Mametz Wood. However, further research has revealed that as a result of the terrible wounds received while carrying his message, Henry Hutchinson had his leg partially amputated but he did in fact survive the war, and is seen claiming an Army pension as late as 1926. He was discharged on 23rd May 1917 and his pension commenced on 24th May and being born in 1890 he was at the time only 27 years old. He was residing at 73 ? Blvd Nottingham. Sold with MIC & copied research, including a letter from the Regimental Museum with a copy of the Battalion war diary & of the casualty roll which wrongly recorded his death. This is an outstanding award of the D.C.M.to a seriously courageous Northumberland Fusilier who volunteered to risk his life by delivering a critically important message under withering enemy fire during the early days of the Battle of the Somme.

A wonderful group and one of the best awards of the D.C.M. you will ever see.

£2250. With Part Exchanges Welcome.