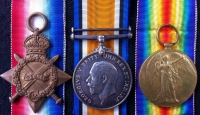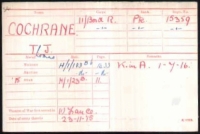 AN EXTREMELY RARE "FIRST DAY OF THE SOMME" (

LONSDALE PALS

) CASUALTY 1914-15 TRIO. To:

15359 L/Cpl T J Cochrane, 11th Bn Border Regiment.

KILLED IN ACTION 1st JULY 1916,

at THIEPVAL.[

BIOGRAPHY

]Thomas Johnston Cochrane was born in 1895 in Dumfriesshire, the oldest of five children of Robert and Sarah Cochrane (née Johnston). At the turn of the century the family moved across the border to Carlisle where Robert Cochrane became a constable with the City Police Force. The family lived at Field House, Wigton Road, Carlisle. On leaving school, Thomas became a clerk for J. Errington a local firm of Carlise solicitors. Following the outbreak of the Great War, Thomas decided to join the army and on 26 October 1914 he enlisted at Carlisle in the 11th (Service) Battalion of the Border Regiment, "The Lonsdale Pals". On 23 November 1915 the Lonsdales sailed to France and went straight to the Somme. On 1 July 1916 the objective for the 32nd and 36th (Ulster) Divisions of General Morland's X Corps was the village of Thiepval. [

1st JULY 1916

] The capture of the Leipzig Redoubt was the primary objective for the LONSDALE's and it was the main success for the 32nd Division on 1 July 1916. However, it was captured at huge cost as the division suffered 3,949 casualties, making it the eighth worst-hit of the sixteen divisions used on the day. Of the 28 officers and 800 men of the Lonsdales who took part in the attack only 2 officers and 310 men survived the day , there being 26 officers and 490 men killed, wounded or missing. One of the dead was Lance Corporal Thomas Cochrane. His body was found by a Corporal Chaloner who was in charge of a search party sent out on 2nd July to bring in the wounded (The Cumberland News of 2nd December 1916 (left) refers). Cpl Chaloner found some letters in Thomas's pockets and later sent them to his family. Thomas's body was initially buried in an English cemetery at a small French village, but after the war his remains were not recovered and he is commemorated on the Thiepval Memorial

A HIGHLY EMOTIVE & GREATLY SOUGHT AFTER "LONSDALE PALS" 1st JULY CASUALTY TRIO

.....THE MEDALS ARE PRACTICALLY MINT STATE WITH MINT ORIGINAL RIBBONS. FIT FOR THE FINEST COLLECTION.£1550 (SOLD).....Going Home to Cumbria.