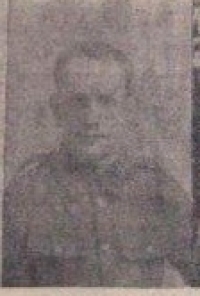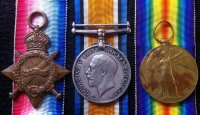 AN HISTORICALLY IMPORTANT
1st DAY BATTLE of THE SOMME

1914-15 CASUALTY TRIO.


To: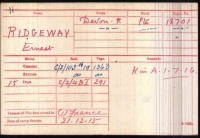 18701 Pte. ERNEST RIDGEWAY. 2nd Bn DEVONSHIRE Regt

KILLED-IN-ACTION Saturday 1st JULY 1916

[BIOGRAPHY]

ERNEST RIDGEWAY was born in BISHOPSTEIGNTON, DEVON. Prior to the war he had lived with his stepfather at 10 OAKHAMPTON ROAD, EXETER and he enlisted at NEWTON POPPARD which is between Exeter and Sidmouth. 2nd Devons had gone to France in November 1914 after service in Egypt. He joined his unit in France on 21st December 1915, just in time for Christmas.

THE BATTLE OF THE SOMME (The Big Push) Saturday 1st July 1916.

The British planned to attack on a 15 mile front between Serre, north of the River Ancre, and Curlu, north of the Somme. Five French divisions would attack an 8 mile front south of the Somme, between Curlu and Peronne. To ensure a rapid advance, Allied artillery pounded the German lines for a week before the attack, firing 1.6 million shells. British commanders were so confident that the Germans would be obliterated they ordered the troops to walk slowly towards the German lines. Once they had been seized, cavalry units would pour through to pursue the fleeing Germans. However, unconcealed preparations for the assault, an intercepted telephone call and the week-long bombardment gave the Germans clear warning. The German trenches were heavily fortified and, furthermore, many of the British shells failed to explode. When the bombardment began, the Germans simply moved underground and waited. Around 7.30am on Saturday 1st July 1916 the whistles blew to signal the start of the attack. With the shelling over, the Germans left their bunkers and set up their machine gun and mortar positions. As the 11 British divisions walked towards the German lines, the machine guns started and the slaughter began. Although a few units managed to reach German trenches, they could not exploit their gains and were driven back. By the end of the day, the British had suffered 60,000 casualties, of whom 20,000, the cream of British youth, lay dead: their largest ever single loss. Sixty per cent of all officers involved on the first day were killed.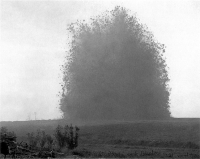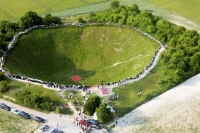 On 1st July 1916, as part of the 34th Division, 2nd Devons attacked La Boisselle and Ovillers and gained only a small foothold at Schwabenhohe after the Lochnagar mine explosion. The Y Sap & Lochnager mines had destroyed part of the German front line which contained many men of Reserve Infantry Regiment 110.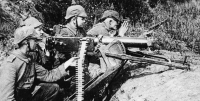 The 2nd Devons sustained 70% casualties losing 232 killed and 199 wounded of whom most were claimed by the withering German machine gun fire.
Ernest's body was lost without trace and as with so many of the 1st July casualties he has no known grave and is commemorated with eternal honour on The THEIPVAL Memorial to the missing.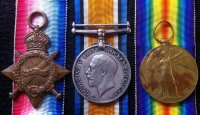 A VERY IMPORTANT CASUALTY GROUP TO ONE OF THE MOST KEENLY SOUGHT AFTER & COLLECTED UNITS......"THE DEVONS" On original mint ribbons with copy MIC & various papers. (SOLD)