A VERY RARE & EMOTIVE "TWO BROTHERS" DOUBLE "SOMME" CASUALTY / GALLANTRY ASSEMBLY, 1914 Star & Bar Trio & Plaque.To: 26. Pte WILLIAM CECIL WRITER.5th LONDON Rgt.
KILLED-IN-ACTION. 1st JULY 1916 (1st DAY OF THE SOMME)

William Writer was Killed during the famous attack at Gommecourt. He is commemorated with eternal honour at Gommecourt British Cemetery, No2. Hebuterne.He and his comrades took part in the Christmas Truce in December 1914.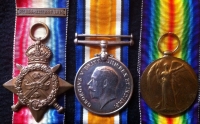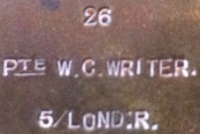 &MILITARY MEDAL & 1915 Trio & Plaque. To: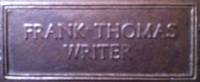 STK-290. L/Cpl FRANK THOMAS WRITER.10th (STOCKBROKER BTN) ROYAL FUSILIERS.

KILLED-IN-ACTION. 15th JULY 1916.

Frank Writer is commemorated at Pozieres British Cemetery, Ovillers-La Boisselle. The epitaph on his gravestone reads: "BLESSED ARE THE DEAD WHICH DIE IN THE LORD" Frank was the son of Thomas Augustus Writer of Broadlands ,St John's Road, Orpington, Kent.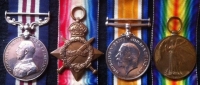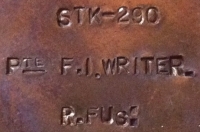 His Military Medal which was gazetted on 19th February 1917 is very unusual in that it's L.G.award heading states:

HIS MAJESTY THE KING has been graciously pleased to approve of the award of the Military Medal for bravery in the Field to the under-mentioned Non commissioned Officers and men 'since deceased', who have been killed in action of died of wounds of disease subsequent to the date of the award of the Military Medal to them by the Commander-in-Chief in the Field".

As Frank was killed on 15th July 1916 and his award was for an act of gallantry prior to that date, it's a fair bet that Frank was due to be decorated for his actions on 1st July 1916. It is known that the paperwork concerned with the issue of many of the planned July Somme awards was either lost, mislaid, delayed or destroyed during the Somme campaign. Thus, many of the men in this February 19th 1917 gazette entry will, by default, be retrospective 'Somme' recipients of the MM who were lost up to the end of the battle in November 1916. Further research will, I'm sure, confirm that Frank's award is indeed for 1st July 1916A Seriously desirable and very rare family grouping. The medals of Bill & Frank Writer who, while fighting in the Battle of the Somme, both gave their lives for our freedom. Bill was a classic 1st Day Casualty on 1st July 1916 and just a fortnight later Frank, who served with the Stockbroker Battalion of the Royal Fusiliers also made the ultimate sacrifice.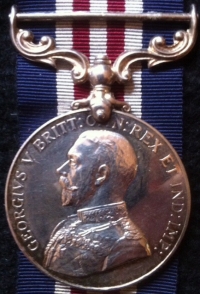 ALL MEDALS & PLAQUES ARE "MINT" WITH ORIGINAL RIBBONS. The plaques come in original card cases with Buckingham Palace letters of issue.



A TIMELY PURCHASE 99 YEARS AFTER THE BATTLE OF THE SOMME.



Bound for the finest collection.( SOLD )