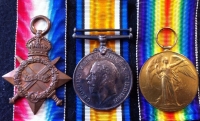 .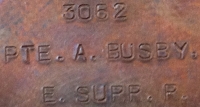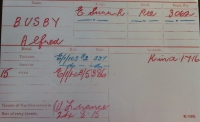 A RARE & HISTORICALLY MOST IMPORTANT GROUP.To:

3062.Pte ALFRED BUSBY. 8th Bn EAST SURREY Rgt

"A 1st DAY of THE SOMME " CASUALTY.WHO WAS KILLED-IN-ACTION. Saturday,1st JULY 1916.

1914-15 TRIO & PLAQUE.(One of Captain Billie Nevill's "FOOTBALL KICKERS" ) & his surviving brother's 1915 Trio ( Northampton Regt ) [THE STORY OF THE BILLIE NEVILLE & HIS FOOTBALL KICKERS ....1st JULY 1916] The East Surrey Regiment's battle honours run over several centuries, and the exploits the 8th Battalion Royal East Surrey Regiment in 1916, which was led by Captain Wilfred (Billie) Nevill is infamous. One hundred years ago saw the start of the Great War. One of the iconic images of this conflict is of men going "over the top", to attack enemy trenches in order to break through their lines and advance towards Germany.
Despite murderous artillery barrages composed of literally millions of shells aimed at destroying the German positions, charging across "no-man's land" was a hazardous undertaking and enemy machine gun posts, left undamaged by the shelling, fired a constant 600 rounds per minute into the exposed infantry, resulting in horrendous casualties. The best known of all these attacks took place on 1st July 1916 which was the first day of the Battle of the Somme. Infamous for the high casualty rates of over 56,000 men killed, wounded of missing on the first day of the attack, it bears eternal witness to the extreme bravery of the men of the British Army who died in their thousands.

Of the many assaults on that day, one of the most famous was that of the local East Surrey Regiment which attacked Montauban Ridge. What made it so memorable was that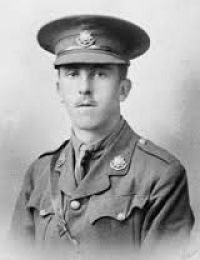 Billie Nevill, one of the captains on that day leading "B" Company had ,while at home in leave just prior to the battle,purchased four footballs for his platoons to kick across "no-man's land" as they advanced. For some this was a reckless and pointless gesture; for others it was inspirational.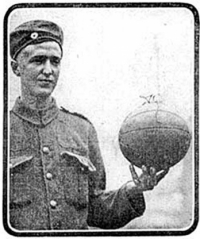 The Germans considered it final proof of British lunacy. What possessed Captain Nevill to do this? Wilfred Nevill was born on July 14th 1894 and went on to be educated at Dover College. He was head boy and an outstanding all-round sportsman. After school he went up to Jesus College, Cambridge, but his academic studies were disrupted by the onset of war in August 1914. Nevill immediately joined up with the East Yorkshire Regiment, but as this had its full complement of officers, he was transferred to the East Surreys. Throughout the winter of 1915-16 the French and British High Command planned a joint offensive against the Germans on the Western Front.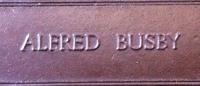 The Somme was chosen not for any particular strategic reason but because it was where the two armies met. North of the Somme was British-controlled trenches, south, the French. Geographically it was not a good choice by the generals. The land was largely chalk, which was ideal for digging deep. The German bunkers were more than 30ft deep in places and therefore able to withstand the allied military bombardment. After a five-day artillery onslaught, there was no element of surprise. To make matters worse, the wrong shells were used in an attempt to break the barbed wire which remained just as entangled after any explosion. As many as one shell in three failed to detonate. All these factors made the artillery barrage not as effective as the High Command believed. Haig did not have much faith in the inexperienced volunteer army so gave them a simple plan of attack – to walk towards enemy trenches that could not possibly have survived under the artillery attack. By 1916, although only 22, Nevill was an experienced officer. A few night-time patrols by Nevill soon indicated to him that the German trenches were still intact and his men were likely to meet a hail of bullets from the battered but unscathed German machine gun posts. He wrote home to his wife about this on June 28, 1916.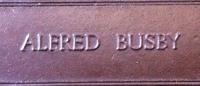 Knowing that it was likely that his men would meet powerful enemy fire, Nevill decided that they needed a distraction as they went over the top. He came up with the idea of kicking footballs as they advanced towards the German lines. His commanding officer gave his permission for this which some historians have questioned, but Lt Col Irwin was a remarkable man. Irwin was commissioned in 1909 and joined the 8th Battalion East Surrey Regiment. He was put in charge of the battalion in June 1916 and stayed on until 1919. He was awarded three DSOs (Distinguished Service Orders) – the only officer in the regiment to do so and was mentioned in dispatches four times on top of that. Twice he was badly wounded, firstly in France and subsequently in Russia, in 1919. To make the best decisions he always went to the Front to find out what was actually going on for himself. He was regarded highly by his men and was a brave soldier. He survived the war and died in 1976, aged 88. To allow Nevill to go through with his idea reflected that he understood the psychology behind it. This was no gimmick, but a genuine attempt to divert the volunteer and inexperienced infantry soldiers from the horrors that awaited them.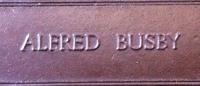 On July 1, 1916, at 7.27am, Nevill led his Company" out of the trenches and advanced towards the enemy front line, with the footballs accompanying them. German machine guns decimated the Surreys' numbers, but his company succeeded in taking the ridge assigned to them. Written on the footballs used were appropriate slogans, one of which was "East Surrey v Bavaria". the other was marked "No Referee" . Nevill's initiative and gallantry proved successful but sadly he did not live to take any praise. Along with 20,000 others that day Nevill died, being struck by a bullet that entered his heart, causing instant death. He had just made the barbed wire defences laid by the Germans. Two of the footballs were returned to England for posterity. One is displayed in Dover Castle and the other in the military museum at Clandon House. The day overall was a disaster in terms of casualty figures and the British press took up Nevill's exploit as one of the few redeeming features.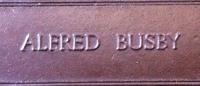 The Daily Mail penned a poem in honour of the attack:

"On through the hail of slaughter When gallant comrades fall, Where blood is poured like water, They drive the trickling ball. The fear of death before them, Is but an empty name, True to the land that bore them, The SURREYS played the game."

The bravery of the "8th Battalion" was acknowledged on that day because its soldiers were awarded two DSOs, two MCs (military crosses) two DCMs (Distinguished Conduct Medals) and nine MMs (Military Medals). Billie Nevill became a hero and his name joined 120 others in a memorial at St Mary's church in Twickenham, where he lived. His body lies at Carnoy in France.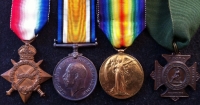 Also included is the 1914-15 Trio to Alfred's Brother, 13350 Pte Joseph Busby. Northampton Regt. After the Great War Joseph worked at Northampton Psychiatric Hospital and his bronze Mental Heath service star is included with his trio. ALFRED BUSBY was the son of George & Hanna Busby, of Cogenhoe, Northants. Alfred was one of nine brothers and sisters. He was one the more unusual casualties in that his body was recovered from the field of battle and is buried in Danzig Alley British Cemetery, Mametz.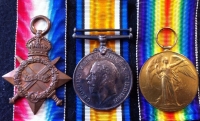 .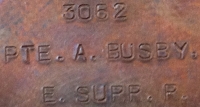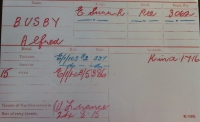 AN EXCELLENT & RARE 1st DAY OF THE SOMME CASUALTY GROUPING TO A FAMOUS UNIT. £2650 with part-exchanges welcome ....call us today on 01342-870926 .