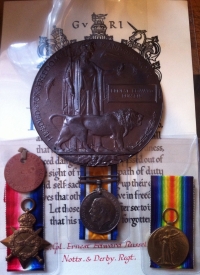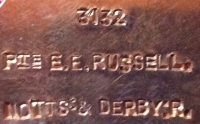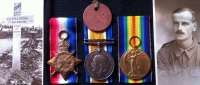 " A MAGNIFICENT & HISTORICALLY IMPORTANT

"1st DAY of THE SOMME"

COMPLETE "RUSSELL FAMILY" CASUALTY ASSEMBLY.( Two Brothers & and a Brother in Law)Totally complete with all medals, plaques, scrolls, envelopes, photographs, etc, etc, etc. Also, over 75 Unique hand written letters from the trenches to family in Nottingham from July 1915 to 25th June 1916,( The Last Letter from Ernest )
Never before in our professional experience have we ever encountered a more historically important and complete assembly than this. If you live in Nottingham, collect Robin Hoods medals, or are a local Museum Curator, please speak to your trustees as this is a MUST HAVE grouping.

To: Two brothers in 1/7th NOTTS & DERBY, & 2/4th WEST RIDING Regt & A Surviving Brother in Law in R.G.A.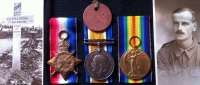 (BROTHER ONE)1914-15 Star Trio, Dog Tag, Plaque, 2 Scrolls & Papers.

3132. L/Cpl E.E.RUSSELL. "C" Coy. 1st/7th Bn SHERWOOD FORESTERS( Notts & Derby Regt.)"THE ROBIN HOODS"

Ernest Russell was FATALLY WOUNDED, Age 25, on the 1st JULY 1916 during the assault on the GOMMECOURT SALIENT.

Amazingly, and against all the odds, his full service papers have also survived. In his casualty report he is seen as being wounded on 3rd July, which is known to be incorrect. The casualty reports pretty much all give dates of 3rd & even 4th July for most of these men who later perished from their wounds. The truth is that they were ALL taken down on 1st July. The even greater tragic truth for Ernest, like so many thousands of the other men who became casualties on 1st July, is that they lay, terminally wounded, in many cases for days before rescue. In the case of Ernest he lay dying for three days before being found. He subsequently died of his wounds at 20th C.C.S. on 7th July 1916, almost certainly of blood loss, gangrene or septicaemia. As with so many men, had he been found earlier, his life may well have been saved, but there were just too many men to deal with.The Robin Hoods went over the top at 07:30 on 1st July and were slightly assisted by their own smoke screen, but it wasn't long before the first casualties began falling before the German machine guns. Ernest was in 'C' company and it was A, B & C Companies, a force of 600-700 men who were in the first wave and as such were almost wiped out in the first minutes of initial assault. They were killed and fatally wounded in their hundreds by the German 91st Reserve Regiment defenders.

A Private Stevenson, who had miraculously survived the ordeal, immediately sent home a postcard to allay the fears of his relatives. In it he commented, accurately:- "I'm sorry to say that Nottingham will be plunged into mourning when the casualty lists are published."

Ernest was a prolific letter writer, and included here are 50 unique and superbly and clearly hand written letters to his sister & mother who then resided at

42 RAGLAN STREET, PEAS HILL ROAD, NOTTINGHAM.

His last letter, dated 25th June 1916 clearly but subtly conveys that he is soon expecting to be in action.Ernest is remembered with honour at WARLINCOURT HALTE BRITISH CEMETERY, SAULTY.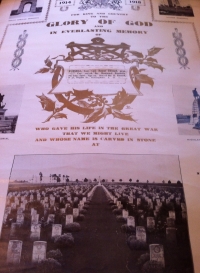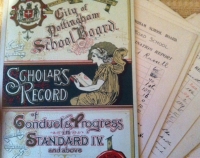 We also know that Ernest was a very bright student as we also have here all his school reports for 1900-01-02 from

SYCAMORE ROAD SCHOOL, NOTTINGHAM

where he excelled,eventually reaching 1st position in his class of 40 pupils.





The 1/7th Notts & DERBY REGT landed in France on 28th February 1915 with the rest of the 46th Division. The Battalion saw heavy fighting at the Battle of Hohenzollern Redoubt—a subsidiary action of the Battle of Loos—which was their first major action of the war. The battalion was heavily involved in the First Day of the Somme on 1 July 1916 and the brigade they were part of sustained very severe casualties in the attack on the Gommecourt Salient.


(BROTHER TWO)War & Victory Medal, Plaque, 2 Scrolls etc.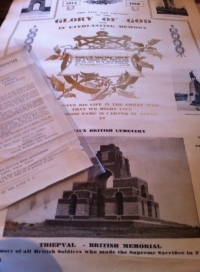 6306949.Private SYDNEY RUSSELL, 2nd/4th Bn DUKE of WELLINGTON's (WEST RIDING REGT)

KILLED IN ACTION, Age 23, on the 20th JULY 1918. Sydney was killed in the attack on Marfaux near Rheims.

Sydney was the younger of the two brothers. He was also a prolific writer and included here are over 30 letters to his mother and sister at 42 Raglan Street, Nottingham. Mostly written on YMCA notepaper from his training camp, but several are written from the field in France during 1917 & 1918. Many other documents relating to Sydney, including his unsigned medal issue letter and even the ultra rare (also not returned) plaque issue letter, are also included.



(BROTHER-in LAW)99499. GNR LEONARD TIDY. R.H.A.& later 187263. GNR L.TIDY R.G.A.

Also included are many items including a diary, note book, and many post cards sent by Gnr Tidy.


ALL IN ALL, THIS IS A HUGE, COMPREHENSIVE & TOTALLY MAGNIFICENT, 200+ ITEM HISTORICAL DOCUMENTARY 'TIME CAPSULE' ASSEMBLY RELATING TO THE 'REAL WORLD' OF THE GREAT WAR AS EXPERIENCED BY THE MEN AND THE FAMILIES WHO ENDURED IT. ERNEST RUSSELLS's PRIMARY SCHOOL ( SYCAMORE PRIMARY SCHOOL STILL EXISTS ) THIS COLLECTION FILLS A SMALL SUITCASE, SO IT'S GOING TO BE A HAND DELIVERY SITUATION BY US TO THE BUYER AT NO EXTRA CHARGE,



PART-EXCHANGES VERY WELCOME. MANY MORE DETAILS ON REQUEST. WE ARE PLEASED TO ANSWER ALL TELEPHONE ENQUIRIES ON 01342-870926.
SOLD. If you missed this superb lot last time around ( and several people did ) please contact us right away !! 01342-870926 !!