A RARE AND DESIRABLE
"QUEEN'S SUDAN & KHEDIVE'S SUDAN PAIR"
To:

2777. Sgt. H. JACKSON 21/St. LANCERS ("C" Troop)
('RODE IN THE CHARGE AT OMDURMAN')
2nd September 1898.
QUEEN'S SUDAN "Officially Engraved"
KHEDIVE'S SUDAN (KHARTOUM) "Unnamed as Issued"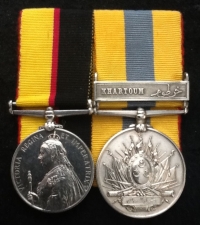 This pair represents the 'Creme de la Creme' of Victorian Cavalry Awards.
Medals to the men who rode in the Charge at Omdurman are highly sought after by medal collectors all over the world.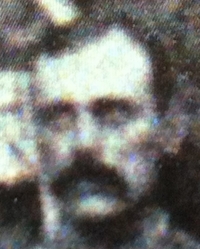 The Charge at Omdurman is recognised as THE VERY LAST major individual cavalry charge against enemy combatants by the British Army.
The 21st Lancers' Charge at Omdurman is equal in fame and notoriety to events such as the charge at Aliwal and Charge of The Light Brigade at Balaclava.
Non other than WINSTON CHURCHILL himself took part in the Charge at Omdurman with "A" Troop, when he was posted to the 21st Lancers from the Hussars and said that he had "never been so frightened in his life" !       

"Omdurman" charger pairs do show up at auction from time to time (*but there were only just over 300 awarded all in) but most are normally well edge knocked or well worn and polished by the proud recipients.
We at Medals of England always seek out not only rarity but also quality and this particular pair are in practically Mint State, as clearly they were almost never worn by Sgt Jackson.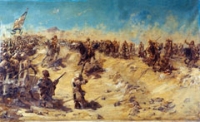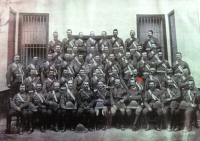 THE CHARGE AT OMDURMAN and the NCO's who took part in the charge. Sgt Jackson is pointed out with a RED dot on his shoulder.
( Second row from the front, fourth man from the right !)
*The 21st Lancers "Forgotten Heroes" book says that Jackson has no service history , but we have here a comprehensive list of his various military dates etc gleaned by a researcher from the unit publications.
We have also identified him on another 21st Lancers group photo.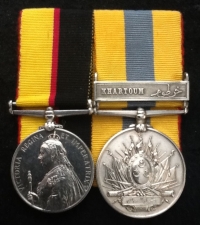 Price wise we have seen pairs sell for between £5250 ( with original photos) and £3800 in quite shabby condition.
We feel that both the condition and rarity of this pair make it a sensible buy at:

£4995

( *Part-Exchanges are always very welcome )
Particularly Quality Gallantry Awards and RFC & RAF items.
Call us today and let's do a deal !
01342-870926