A Fine & Early 1914 Star & Bar Casualty Trio with Plaque
To:
6687. Pte. ALFRED GLOVER.
1st NORTH STAFFORDSHIRE Regt

KILLED-IN-ACTION. 21st DECEMBER 1914.
(at Rue-du-Bois, near Fleurbaix)
Alfred Glover was born in late 1879 and born at 85 Botteslow St, in Hanley, Staffs.
later living at 65 Balfour Street, Hanley, a single man, he is seen enlisting into 4th N, Staffs on 22nd January 1902 age 22 and four months. He was a Potter working for Meakin & Co. Stoke on Trent. He entered France with 1st N. Staffs on 10th September 1914
*In December 1914 1st Bn were in the trenches in the Rue-du-Bois area (near Fleurbaix) and later participated in the Christmas Truce.
The Truce was sadly too late for poor Alfred as he was Killed-in-Action just four days before Christmas on 21st December 1914.
He is commemorated with eternal honour on Panel 8 of The Ploegsteert Memorial to the Missing, Belgium.
Includes two original letters of January and March 1915, from HQ North Staffs at Lichfield,in action to his mother, Rose Glover, stating that Alfred had been 'killed in action' at a 'place unknown'.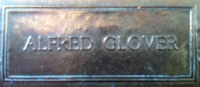 AN EMOTIVE CASUALTY FROM THE POTTERIES.
(Includes original North Staffs cap badge and Shoulder Title)

£795