An Historically Important & Rare ,
"SENTENCED TO DEATH"
and later
KILLED-IN-ACTION 
at
1st Day of
THE BATTLE OF KUT-AL-AMARA, IRAQ
25th January 1917
Age 21 
1914-1915 Trio

To:
23543. Pte. J.C. SPENCER. 9th Bn. WORCESTERSHIRE Regt.
 This soldier faced a most unusual situation which we can't ever remember coming across before. 

Private John C. Spencer is shown on his M.I.C. as having been guilty of "Cowardice" which during World War One was one of several capital crimes that carried a mandatory and Automatic Death Sentence on conviction by Court Marshall. About 10% of soldiers thus convicted were Shot At Dawn.   
However, in the other 90% of cases the punishment was downgraded to either 3 or 5 Years Penal Servitude. 
In John Spencer's case this is clearly what was ordered.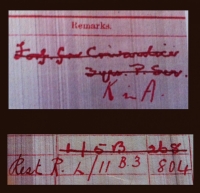 He is at first shown losing his 1915 Star entitlement for this offence and its entry is initially shown "ruled out" with the remarks box further showing
'Forf, for Cowardice' 3 Yrs. P. Serv.
It seems clear however that judging from subsequent events the reality of a pending prison sentence while serving in a war zone was that it be postponed until some time in the future when a man's fighting services were no longer required. Presumably while still under threat of later imprisonment, John Spencer was placed back in service with his unit and as the further sad events unfolded he was
Killed-in-Action on 25th January 1917, age 21,
1st Day of The Battle of Kut-Al-Amara, in Iraq.
His 1915 Star entitlement is then show being 'REST' (restored) at a later date when he is also shown as  K in A on his medal record card.
Apparently all the WW1 Courts Marshall records are still available at N.A. at Kew, so we will take a look and see if we can find just what occured in the sad case of John Spencer's clearly sad and temporary moment of hesitance in action.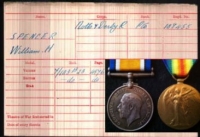 Also included  in this rare and interesting assembly are the medals of 108455 Pte William H. Spencer, Notts & Derby Rgt, who was the brother of John C. Spencer. 
By reference to William Spencer's service number it looks pretty certain that he served in Gallipoli, Malta and Egypt with 1st Garrison Battalion. This in itself was an interesting unit as it was involved in a serious mutiny in June 1917 at Kantar (Qantarah esh Sharqiya) in Egypt. Kantara was the terminus of the railroad to Palestine constructed during the early part of WW1 and the base for the BEF in Egypt. 64 Men were charged and all were given punishments of two years hard labour.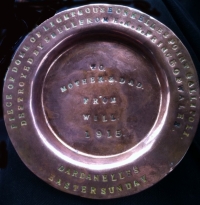 While out in the eastern theatre Will Spencer clearly picked up an example of what is now a rare and highly desirable 'Scrimshaw-Field Momento' item in the form of a very heavy Copper Ashtray.
These ashtrays were inscribed around the circumference with the legend:
"PIECE OF DOME OF LIGHTHOUSE ON HELLES POINT GALLIPOLI DESTROYED BY SHELL FROM H.M.S. PRINCE OF WALES. DARDANELLES EASTER SUNDAY"  
(The Cape Hellas Point Lighthouse was indeed destroyed by a 12" shell fired from HMS Prince of Wales on 25th April 1915.)   
These souvenirs were clearly made by the enterprising local traders who manufactured them from the scrap copper taken from the ruin of THE HELLES POINT Lighthouse and sold them to off-duty soldiers in the bazzars. The flat central area was reserved for a chosen remark or detail to be added at the purchaser's request at the time of purchase ....in this case the inscription reads:
"TO MOTHER & DAD FROM WILL' 1915"
NOTE: The Imperial War Museum have a couple of examples in the National Collection, one of which is engraved with a Kangaroo and an Australian Soldier's details.                      
        
ALL MEDALS EF+ ON ORIGINAL RIBBONS
A GREAT RESEARCH PROJECT.  
SOLD