1914 Star & Bar Trio
(CASUALTY)
To:
471. Pte. J. STODDART.
2/GORDON HIGHLANDERS.

Killed-in-Action
29th October 1914.
(Belgium)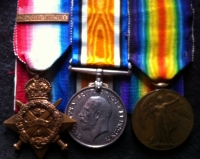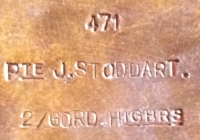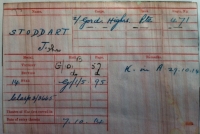 John Stoddart was born about 1891 in Canongate Midlothian and joined the army aged almost 19 on 29th April 1910. He had been a Painter and had several tattoes. He was 5ft 3" tall and the son of George and Elizabeth Stoddart, of 1, St James Street, Pilrig, Edinburgh. He had three sisters, Christina, Agnes and Elizabeth. He went to France with the BEF and landed on 7th October 1914. He was Killed-in-Action just 22 days later on 29th October 1914 during an action near Kruiseecke, Belgium where the Germans were "much worrying" the battalion with Machine Gun fire. He has no known grave.
With copy of "Burnt Records" of service and copy MIC

JOHN STODDART IS REMEMBERED WITH HONOUR
on
THE MENIN GATE (YPRES) BELGIUM.
Medals EF

£695