A RARE & SUPERB
(BATTLE OF THE MARNE CASUALTY)
1914 Star & Bar Trio
&
Memorial Plaque
1st Bn SOUTH WALES BORDERERS.
To:
8788. Pte. G.H.T. MILLS. S.WALES BORD.

'KILLED IN ACTION'
18TH SEPTEMBER 1914
Age 27.
George Henry Thomas Mills was born in Canning Town, London and was the son of Mrs M.A. MILLS of 29, Percy Road, Canning Town, and the late Mr G.H.T. Mills.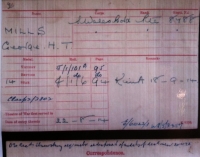 George entered France with his unit on 22nd August 1914, which was the day the shooting started. He was killed in action less than a month later on 18th September 1914 during the Battle of The Marne during which there were 13,000 casualties and a staggering 7,000 killed. 
GEORGE IS REMEMBERED WITH HONOUR ON THE
La-Ferte-Sous-Jouare Memorial to the missing, France.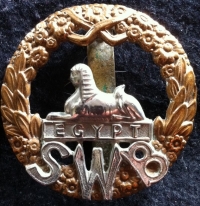 (Includes a Genuine WW1 SWB Cap Badge)

  A WONDERFUL & MOST HISTORICALLY IMPORTANT GROUP
TO ONE OF THE MOST COLLECTED WELSH UNITS 
SOLD