1914 Star & Bar Trio
(BATTLE of THE MARNE CASUALTY)
with Plaque.
To:
8685. L/Cpl. G.W.BULLOCK
1st Bn Loyal North Lancashire Reg.

Killed-in-Action.
14th September 1914.
George William Bullock was born in Bethnal Green, Middlesex and enlisted in London. A VERY early entrant to France on 12th August 1914. He was a married man of 23 when he was killed in action on 14th September 1914. He had, in 1911, lived at 12 Dover Street, Preston, Lancashire with his wife Elizabeth Alice Bullock, a weaver (aged 26 in 1914 ) and Son, Edwin George (aged 5 in 1914).
HE IS REMEMBERED WITH HONOUR ON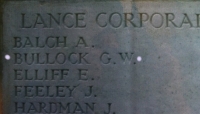 La Ferte-Sous-Jouarre Memorial to the Missing, France.
Medals EF and pad mounted.
£845