1914 Star & Bar Trio
(BATTLE of THE MARNE CASUALTY)
with Plaque.
To:
10031. Pte. E.C. ONIONS
2/NOTTS & DERBY Regt.
KILLED IN ACTION
20th September 1914.
Age 28.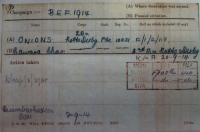 Edward Charles Onions was from Radford, Nottingham.
Having been a pre-war regular stationed in Deccan India, he entered France on 8th September 1914 as part of the BEF and was
at billets at Douai on 12th September. Moving through France he arrived at Bourg on 19th and relieved The Black Watch in trenches near Vendresse.
The enemy broke through the front line on 20th September 1914 and A & C Companies went forward to counter-attack. The German machine guns were quickly brought into action with many casualties being caused not only in the leading companies but also B & C coming up in the second line.The Battalion pushed on and eventually cleared enemy from 1st West Yorks trenches. The actions cost 5 officers killed , 8 wounded, 44 Other ranks killed (of which one was Edward Onions) and 165 wounded.
(NOTE) *It was 60 years to the day on 20th September 1854 during the Crimean War that the Battalion (then the 95th Regt) had stormed up the slopes of The Alma. This action in the Crimea being linked to the events of 20th Sept 1914 and the climb up to the trenches on the Chemin des Dames. Coincidentally the casualty figures at the Alma were almost identical 6 officers killed, 11 wounded, 46 other ranks killed and 168 wounded.
A VERY RARE GROUPING TO A MUCH SOUGHT AFTER UNIT.
EDWARD CHARLES ONIONS IS REMEMBERED WITH HONOUR
ON THE
'LA FERTE-SOUS-JOUARRE MEMORIAL'
MEDALS PRACTICALLY 'MINT' ON ORIGINAL RIBBONS
PLAQUE ALSO 'MINT'
£845