An Historically Important
BATTLE of THE MARNE CASUALTY
1914 Star & Bar Trio
&
Plaque
To:
10065. Pte V.J.MEESE. 2nd Bn THE WORCESTERSHIRE REGT.
WHO WAS SEVERLEY WOUNDED, 18th September 1914
and DIED OF HIS WOUNDS, 5th October 1914.
AGE 25.

BIOGRAPHY

On 24th October The Malvern News reported:
"Pte Victor Meese of 2nd Worcesters, son of Mrs Meese, 2 Sankey Terrace, Quest Hills Road, has died of wounds received in the Battle of the Marne. He joined the 2nd Worcesters at the age of 18 (22. Jan. 1906) and served with the regiment for some years in India. He came home in October last year and was drafted into the Reserves. When war broke out he rejoined his regiment and went to France with the BEF (*26th AUGUST 1914) He was wounded in the Battle of the Marne, but not seriously and took part in the Retreat from Soissons and subsequently the advance when he was shot through the lung and from the first the case was hopeless. He lay on the battlefield for several days before he was found in a barn with several other British wounded. He was then taken to the Base Hospital and from there to friends of his sisters at 21 Avenue de Bois, Paris where he died on October 5th. He was buried with full military honours with other British soldiers at Bagnuex Cemy, Paris.
His Sister, Miss Mary Meese, who has been for 5 years a resident of Paris and householder to the Dutchess Bassano, left for England at the outbreak of hostilities, probably on the way home passed her brother who was then embarking with the BEF. Her friends in Paris immediately informed her of her brother's illness and she went over to Paris to see him. Unfortunately he died before her arrival. She was however able to attend the funeral and returned home on the 14th. She was in Paris when it was shelled.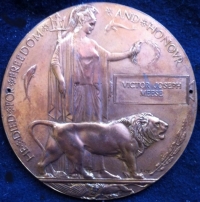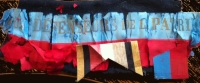 RIBBONS FROM THE FLORAL TRIBUTES AT PTE MEESSE'S FUNERAL IN PARIS
According to a number of letters Mrs Meese has in her possesssion written by a nurse in the hospital where Victor Messe was said:
"....he was a good boy and I congratulate you on him. He says, "just cheer up and I will be home by and by" Also one written by a friend says, " I saw your son in the hospital trian today , Wed, Sept 30th, he is wounded and ill, but begged me to tell you he is going on well. He is in God's hands and your comfort must be in praying for him. He has been a true soldier and you must be proud of him"
Other sources talk of the fine soldierly qualities possessed by Meese who was a general favourite in the battalion. He was 25.

*His father, the late Sgt J MEESSE, who died in 1907 was for some years Military Instructor at HARROW SCHOOL and later at MALVERN COLLEGE. While at HARROW the late Sgt Meese had as one of his pupils Mr WINSTON CHURCHILL.
Mrs Meese has a private letter from Winston Churchill saying, "...under him (Sgt Meese) I learnt sufficient fencing in three months to gain championship for public schools at Aldershot"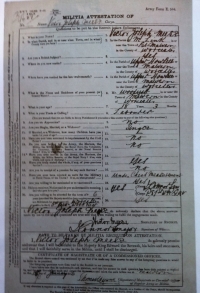 Copy service attestation papers and 1901 Census copies are also included. Victor Meese was one of eight children which included three brothers and four sisters , two of whom were twins born in 1891. The family then lived at 2, Yates Road, Yates Hey , Malvern Link, Malvern, Worcestershire.

An important early casualty group to a classic pre-war soldier of the BEF.
Medals EF+ on original ribbons.
Plaque pierced at 3' and 9' o'clock for mounting .
£795.00