A Rare & Important
Boer War & Great War casualty group of four.

QUEEN'S SOUTH AFRICA MEDAL
(Cape Colony, Orange Free State, Johannesburg,
DIAMOND HILL, BELFAST, South Africa 1901)
&
1914- 1915 Trio
To:
5135, 1926 & 24049. Pte/Cpl/Sgt William Henry JACKSON,
2nd & 1st/6th Bn Royal Warwickshire Regt.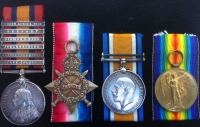 KILLED IN ACTION
27th August 1917
(Battle of Passchendaele)
'3rd Battle of Ypres'
While Serving With
1st/6th Bn ROYAL WARWICK REGt.
William Henry Jackson was born in July 1879 in St Pancras, London and lived with his father at 152 Neal St Camberwell. He signed up for The Royal Warwicks on 25th September 1897 in London, aged 18 and 3 months. He was only 5ft 4" and had been previously employed as a Vanguard. He served throughout the Boer War as 5135. Pte W.H. Jackson, earning a Q.S.A. with 6 clasps ( South Africa 1901 Clasp lose on ribbon as usual) and confirmed on his service papers.
He was Court Marshalled on 17th October 1901 for some unknown misdemeanour and reduced to the ranks from Corporal.
He married Maud Jackson (nee Fynn) on 25th December 1906 at Richmond Register Office (Surrey) and had a son, also William Henry Jackson who was born on 23rd October 1907, also in Richmond.
Discharged at the end of his 1st engagement on 24th September 1909.

He was clearly called up or volunteered again for service in WW1 as 242049. Pte. W.H. JACKSON R.WAR.R. He has two MIC's one for the 1915 Star on which he is shown as 1926, Pte W.H. Jackson and another for his pair on which he is shown as 24209. Sgt. W. H. Jackson. His medals correspond to these details.

He landed in France on 19th January 1915 and fought and survived many of the major battles and actions of 1915-16 including The Battle of The Somme.

In August 1917 his unit was engaged in what was the very fiercest of fighting at the third battle of Ypres at Passchendaele, and during a well documented charge by The Warwicks across the almost impossible teraine of mud and the terrifiyingly deep shell holes, William was cut down by withering German machine gun fire.
Out of over 125 men who charged over the top only about 15 survived.
(Note* The book to read about this dreadful action is "SOME DESPARATE GLORY" by Captain E.C. VAUGHAN of The Royal Warwicks, who starkly details the terrible conditions and losses of that day in terrifying detail.
William Henry Jackson was 38 years old and left a widow and son William Henry aged 9 who lived at 19, P Block, Peabody Avenue, Ebury Bridge, Pimlico, London.
( Note* This building is right by the River Thames where the incoming electric trains approach Victoria Station and can be seen today.)
William has no known grave and is commemorated with honour on the Memorial Wall at Tyne Cot Cemetery, Belgium.
The QSA is EF and the Trio EF+.
The Group comes with copy rolls for the QSA clasps, and his WW1 medals and a colour set of photocopies of his 1897 Attestation papers and his two MIC's
( On Original Ribbons )

AN EXCELLENT GROUP OF MEDALS TO A MUCH SOUGHT AFTER UNIT.
'LEST WE FORGET'
UNIQUE
£995