AN IMPORTANT
DISTINGUISHED FLYING CROSS (1944)
LG.18.1.44
& 2nd Award Bar (Undated) 
L.G.14.11.44
1939-45 Star, Aircrew Europe Star, (France & Germany Clasp)
Defence Medal and War Medal. 
                 
To:


L.A.C.- Flt/Lt John Campbell MAXWELL. R.A.F. 
Bombing Leader.
Served on 103 & 625 Squadrons (Lancasters)

 This Officer started his RAF career as a trainee pilot in February of 1942 as a Leading Aircraftsman at RAF Sywell (6 EFTS) on DH82 Aircraft.(LOG BOOK 1)
 From there he went overseas to 20 EFTS (Oshawa, Ontario, Canada) where from 25th May 1942- 21st June 1942 he trained on Tiger Moth aircraft. After this one month in Canada his training came to an abrupt end signalling that he had not reached the required standard for continued pilot training.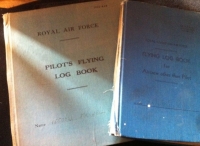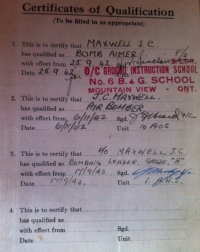 (LOG 2) He is then seen commissioned as Flying Officer and starting a bomb aimers /air gunners courses at No.6 Bombing & Gunnery School Mountain View, Ontario on Avro Anson aircraft. These continued from 3rd August 1942 -25th August 1942. This was followed by an Air Bombers' Navigation Course at Chatham N.B. from 28th September - 9th November 1943.
He clearly excelled in his new roll as a bomb aimer and is seen at 28 O.T.U. back in the UK from 27th February 1943, training on Wellingtons where he flew until 20th April 1943. On 17th May 1943 he joined No.1662 Conversion Unit flying the Halifax and Lancaster Heavy Bombers until 9th June 1943. He joined his first operational squadron (No. 103) on 12th June 1943 where after just one familiarisation flight he went on his first raid on the night of 14th June 1943. ( Oberhausen) and two nights later to Cologne. He flew with 103 until 22nd August 1943 until a move to No.1 IAAS at Manby on Hampden and Blenheim aircraft....from 5th September - 14th September, then back to 103 Sqd on 18th Sept. until 27th September when (at short notice) on 3rd November he transfered to 625 Squadron at RAF Kelstern as Bombing Leader. After much night flying, log book two ends on 22nd August 1943 with two important and historic raids on The V1 flying bomb sites at PEENEMUNDE  & LEVESKUSEN. His final Night raid with 625 was to BERLIN on 27th January 1944.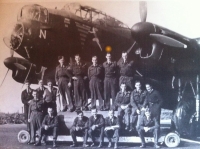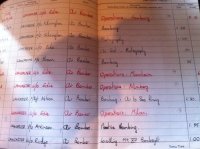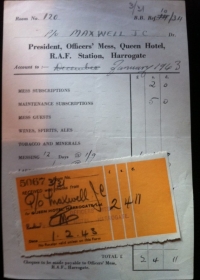 F/O Maxwell is the second officer from the right on the back row. Here seen a page from his second flying log book showing night raids to some of the most heavily defended targets in Germany. Here also a Mess Bill dated 1st February 1943 for £2/4/11d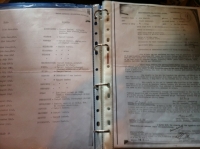 Also with this superb group comes a fully detailed research file drawn and copied from RAF Ops Records, and London Gazette.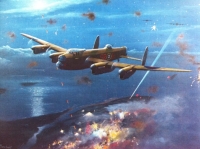 A WONDERFUL AND HIGHLY EMOTIVE GROUP TO A TWICE DECORATED
BOMB LEADER. FIT FOR THE FINEST COLLECTION OF R.A.F. MEDALS.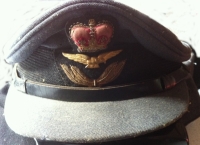 His Official Recommendations carry the words:
" ...His complete disregard of enemy opposition......he has participated in attacks on the most strongly defended targets .....in the face of intense anti-aircraft fire and fighter opposition "  
SOLD