A RARE & SUPERB,
MILITARY MEDAL
(& 2nd Award Bar)
1914-1915 Star Trio.
To:

21909, Cpl/Sgt W.J. WAY. 8/CANADIAN INFANTRY
(10th Batt,13th Canadian Machine Gun Company)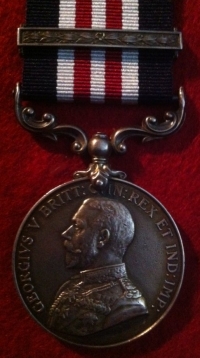 CITATION FOR MILITARY MEDAL
(Awarded 6th July 1917)

"In the operations of the 1st Canadian Division, South of THELUS, on the morning of April 9th, 1917, Corporal Way showed great courage and bravery when his Section came under very heavy shell fire. He assisted materially under heavy fire in re-organising his Section, and on two occasions terurned single-handed to recover a gun which was essential to the successful conduct of the operations.
HISTORY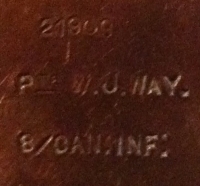 Wilfred James Way was born in Calne, Wiltshire, England on 26th July 1890,the son of James Way of "Hazeland Lodge" Calne he was a Labourer before joining the Canadian Army (11th Bn) at "VALCARTIER" near Quebec on 23rd September 1914. Taken on force in France on 2nd April 1915 and was severely gassed and rendered unconscious on April 24th 1915 at Ypres. Returned to England to hospital in Bedfordshire, Dartford, Bromley and Shorncliffe. He was seen back in hospital again on 22nd June with 'Gun Shot Wound' in left foot.
He was seen back in France on 22nd July 1915 where he was awarded his MM on 6th July 1917. Promoted to Sergt 18th November 1917. To England on 25th March 1919.
Awarded a BAR to his MM on 23rd July 1919.

An excellent and seldom seen Canadian double award.
(SOLD )
"Going Home to Canada"