OBE (Mily) 1914-15 Star Trio. 1935 Jubilee,
To:
Commander H.C. POCOCK. R.N.
(Senior Officer OBAN)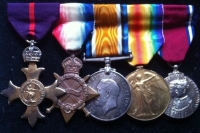 Commander Hubert C. Pocock commanded the Naval Base at Oban Scotland.
LG 27th June 1919.
(by Commander -in -Chief Coast of Scotand)
"Has controlled Oban Naval Base with ability and success. His services are deserving of recognition"
A CANDIDATE FOR MUCH FURTHER RESEARCH.
ALL MEDALS MINT & SWING MOUNTED AS WORN.
(With Copy Medal Roll and Original Citation)



£750