A Very Rare and Complete Assembly 
to a very early casualty in a rarely seen unit.
1914 Star & Bar Trio & Death Plaque.
To:
776. Pte. George Jackson.
1st Bn NORTH SOMERSET YEOMANRY.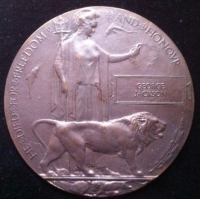 Killed in Action
17th November 1914.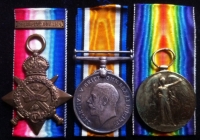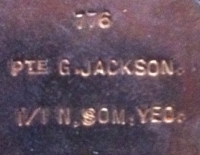 This very rare assembly comes complete with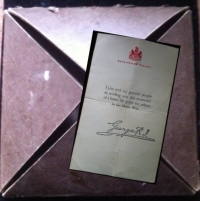 PLAQUE COVER AND BUCKINGHAM PALACE LETTER
  Original Registered Envelopes (including a rare separate one for the Aug-Nov clasp).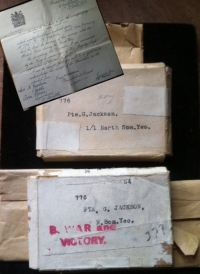 Medal Issue letter (for the pair) and the original card medal boxes and packets pair and 14 Star.
also included is a......
RARE & COMPLETE MARY BRASS BOX with all its tobacco and cigarettes and cards.(This includes the orignal and ultra rare letter sent to the late soldiers parents which passes on this famous 1914 Christmas gift. )  
EXTRACT FROM UNIT DIARY

17th-November 1914
Zillebeke
9:00 am
" Heavy shelling started and the trenches were searched by shrapnel and H.E. shells which gave off repulsive fumes. 2 German aeroplanes passed up the lines followed by a 3rd. The trenches had already been damaged by shell fire and as no Royal Engineers were available they were repaired by the men as best they could but owing to the softness of the soil and no materials for revetting being available the trenches were soon rendered vulnerable again.
A determined attack was made at noon which was repulsed with heavy loss causing the regiment many casualties including Capt Liebert who was killed. The attack was renewed and Brig Gen Lord Cavan was now informed and asked for reinforcements. He sent up 2 coys Coldstream Gds who occupied the reserve trenches at 3.30pm. Meanwhile the attack had been continued and Lt J S Davey killed. 30 men of A Squadron were sent up under Capt R E English to replace casualties. Later on the remainder of A Squadron under Maj G Lubbock was sent up.
The enemy made another determined attack at dusk but was repulsed with heavy loss making it unnecessary to call up the Coldstream Guards. The enemy sent up a balloon at midday with flags attached and in the evening used magnesium light to direct the attack. The relief of the trenches was carried out at 6.30pm by the 2nd Life Guards in the firing line and R[oyal] Horse Guards in reserve. C Squadron came under heavy shell fire in the reserve trenches but did not occupy the front trenches.
The regiment marched dismounted to Ypres where it picked up its horses and returned to its billets near Vlamertinghe.
Casualties - Capt F G C Liebert and Lt J S Davey killed. Capt S G Bates 7th Hussars (adjutant) and 2/Lt A N Bailward wounded. NCOs and Men Killed 22.(Included GEORGE JACKSON) Wounded 39. Missing 3. Total casualties 64. Out of these 59 were sustained by the 200 rifles in trenches at Zillebeke.
The weather has been bitterly cold the last few days and the horses suffered from exposure."
      A TOTALLY SUPERB AND ULTRA RARE COMPLETE ASSEMBLY, FIT FOR THE FINEST COLLECTION.
£1795.00
NOTE: WE NOW HAVE SEVERAL COMPLETE PRINCESS MARY TINS AVAILABLE FROM £295.