QUEEN'S SOUTH AFRICA MEDAL (3 CLASPS)
To:
Cpl. H.A. GALLOWAY. 26th Field Coy. R.E.
Cape Colony. O.F.S. Transvaal.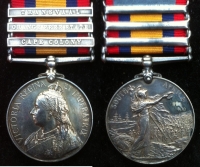 A lovely medal with somewhat unusual (but quite correct)
"Officer Type" Officially Engraved block capital naming.

Clear 'Shadow Date' reverse. Full attestation copy and medal roll.
Cpl Galloway was from Walthamstow Essex.
Enlisted 1890 as an already qualified engineer.
Discharged as Medically Unfit, 20th July 1901.
SOLD (J.G.)