A pleasing and original
NEW ZEALAND MEDAL.
2nd War (Undated)
To:
(361)71.Driver/Cpl. Isaac Payne. C.Bty, 4 Bde. Royal Artillery.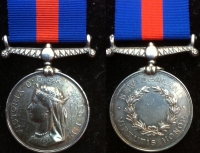 Isaac Payne served 4th March 1861- 27th June 1866 and was in action in the field against the enemy at Kalikara, Keri Keri, Rangeawhia and Orakan.
Two copy rolls included. Slight contact wear to 7 of service number.  
SOLD