A Magnificent Boer War & WWI Gallantry combination of seven medals.
MILITARY MEDAL (GV)
QUEEN'S SOUTH AFRICA MEDAL
(Belfast, Laing's Nek, O.F.S. DEFENCE OF LADYSMITH. Talana).
KING'S SOUTH AFRICA MEDAL
(SA01, SA02)
1914-15 Star Trio
&
Belgian Croix de G with Palm. (LG. 26th Nov,1919)

To:
R-5522. (722 on QSA & KSA, )
Pte, Sgt & later, Company Quarter Master Sergeant.
F.O. HILL.
13th (Manchester) Bn. King's Royal Rifle Corps.




DEFENCE of LADYSMITH, 6th Jan 1900
The besieged garrison at Ladysmith was hoping to be relieved before Christmas 1899 but Buller's reverse at Colenso had dashed the hopes of the British. The siege lasted from 2nd Nov until 28th Feb 1900. Within the town there were 13,745 soldiers and 5,400 civilians who suffered from disease, famine and the daily shelling by Boer guns. The 1st and 2nd Battalions of the KRRC were part of the garrison. The 1st had 20 officers and 665 men and the 2nd had 20 officers and 754 men. They were mostly responsible for defending the southern approach to the town (C Sector) in the area of Wagon Hill. The 3rd Battalion were in Buller's relief force, in the 4th Brigade (Lyttelton's) of the 2nd Division.
WORLD WAR ONE
13th Battalion Kings Royal Rifle Corps
Formed at Winchester on 7 October 1914 as part of K3 and attached as Army Troops to 21st Division. Moved to Halton Park, going on in November 1914 to billets in Amersham and Great Missenden. Moved to Windmill Hill (Salisbury Plain) in April 1915 and transferred to 111th Brigade in 37th Division.
31 July 1915: landed at Boulogne.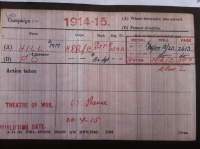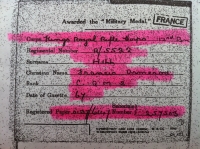 Francis Ormerod Hill was born c,1879 in ROSS, Hereford. He is shown as a "Visitor" aged 2. with the Davies family along with his mother Mary, at "High Street" Ross. His father is not shown at the address on the 1881 Census . He had a younger brother, Arthur, aged just 1.
Francis married in 1906 and died in 1953 aged 74.
A FINE & RARE COMBINATION TO A DECORATED SOLDIER WHO FOUGHT IN
AND SURVIVED TWO WARS.
Worthy of much further research.



£SOLD