A most magnificent and important, SOMME & 3rd YPRES
MILITARY MEDAL & 2nd AWARD BAR
1914-15 Trio
& ITALIAN WAR CROSS.
To:
15952. Pte. A. CONSTANTINE. "A" Company, 13th DURHAM LIGHT INFANTRY.
KILLED IN ACTION.
10th OCTOBER 1918

St BENIN (River Selle).
(Just One Month and One Day Before the War's End !)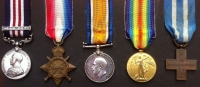 Private Albert Constantine was born in Lanchester in 1894. Prior to World War One he was a miner at CORNSAY COLLIERY. He is shown on the 1911 census living at home age 16 and already a coal miner. He enlisted in the army on 8th September 1914 at Durham. He took part in the vicious fighting right through the Battle of The Somme and the 3rd Battle of Ypres, only to lose his life in those desperate last days of struggle just 31 days before the end of the war.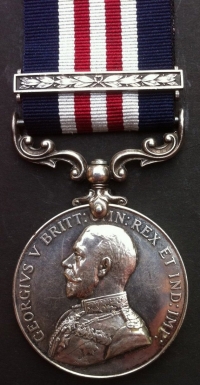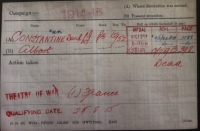 Albert was the Son of Phyllis and the late Frederick Constantine of 14,Liddell Street, Cornsay Colliery. County Durham.
Albert won his first Military Medal at Le SARS during the Battle of The Somme on 10th October 1916 (LG. 9.12.16) and his 2nd award bar at Reutel (3rd Battle of Ypres) (LG.12.12.17).
He was unusually also awarded The Italian War Cross (Croce di Guerra) on 4th July 1918 (LG.29.11.1918.)
The CGW had for many years omitted to record his second award but due to correspondence that has now been put right and an updated headstone will be produced on the next replacement cycle.
The group comes with extensive paperwork and copies of Attestation papers including many luckily surviving sheets from his soldier's file which somehow escaped the WW2 records fire ! The only item recovered and returned to his mother was his Dog Tag !

ALBERT CONSTANTINE IS COMMEMORATED WITH HONOUR AT
"QUIETISTE MILITARY CEMETERY, LE CATEAU, FRANCE.
Note:
WE WOULD LOVE THE CITATIONS FOR THIS MAN'S AWARDS, SO IF ANYONE
HAS ACCESS TO THE LOCAL WW1 NEWSPAPERS IN THE AREA WE WOULD LOVE TO HEAR FROM YOU. THIS LAD'S DEEDS ARE BOUND TO BE RECORDED SOMEWHERE IN THE LOCAL PAPERS OF THE TIME.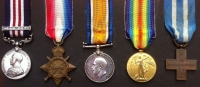 AMAGNIFICENT GROUP FIT FOR INCLUSION IN THE FINEST COLLECTION.

-SOLD-