A RARE & IMPORTANT
DISTINGUISHED CONDUCT MEDAL (GV)
"FOR THE ITALIAN CAMPAIGN 1917-18"
& 1914-15 Trio.
To:
2579. Cpl. Fred Williams.
XIV C.C. ("CAVAN CORPS") BATTALION. ARMY CYCLIST CORPS.
(previously 8306. Pte Fred Williams 2/Hampshire Regt.)
From Newport, Isle of Wight.
(Award: London Gazette 3 June 1918... Citation 21 October 1918.)
"FOR CONSPICUOUS GALLANTRY AND DEVOTION TO DUTY.
AFTER TAKING PART IN SEVERE OPERATIONS, DURING WHICH HE WAS TWICE WOUNDED, HE JOINED A CORPS CYCLIST BATTALION, AND INVARIABLY DISPLAYED CONSPICUOUS COURAGE AND COOLNESS UNDER FIRE. HE WAS THE SENIOR NON COMMISSIONED OFFICER OF THE FIRST PATROL WHICH VOLUNTEERED TO SWIM A RIVER IN THE DEPTH OF WINTER".

(Note: Williams probably swam across the River Piave during the winter
of 1917-18 during early recce patrols.)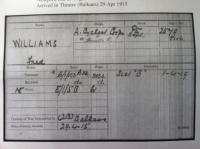 Arrived (2B) Balkans 29th April 1915. Evacuated from Gallipoli to Egypt Jan 1916, Entered France 1916 .
Fought on the Somme and at 3rd Ypres. Wounded twice. Transfered to Cyclist Corps and took part with Lt Gen Earl of Cavan in the Italian Campaign of 1917-18. Arrived Italy November 1917.
A RARE "ITALIAN CAMPAIGN" AWARD OF THE D.C.M.
TO A VERY INTERESTING UNIT
£SOLD