A GOOD
DISTINGUISHED SERVICE MEDAL (GV)
'HMS URSA'
(Modified "R" Class Destroyer)
To:
217981. AB. Leonard AYLWIN. RN. 
(SERVED AT BATTLE OF HELIGOLAND BIGHT).
From Foxhill, Petworth, Sussex.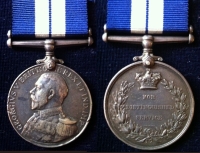 London Gazette, 8th March 1918.
"The King has been graciously pleased to approve of the award of the following honours, decorations and medals to Officers and Men for services in Destroyer and Torpedo Boat Flotillas during the period ending 31st December 1917"
Also entitled to a 1915 Star Trio.
Born 20th April 1885, Petworth, Sussex, to Parents Alfred and Harriet
1891 Census. Brickfold Farm, Fox Hill, Petworth.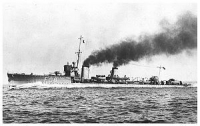 HMS URSA, was a modified R-Class Destroyer, launched 1917 and sold off in 1926, Involved in Battle of Heligoland Bight.
Another classic "Old Salt's" Medal. Suspender slightly lose and one or two edge nicks and general contact and wear from other medals.
Star Point Contact wear to '1917' at end of naming.
Otherwise Ok...
217981. L. ALYWIN. A.B. H.M.S. URSA. 1917 
With copy of roll.
SOLD
( The trio is out there somewhere !)