A very important & unusually well documented
MILITARY MEDAL,
To:
86111. L/Cpl. Thomas Langford. 170th Tunnelling Company. R.E.
(Previously 11496. Pte. T. Langford. 2nd South Staffs Regt)
(Landed FRANCE 29th November 1914)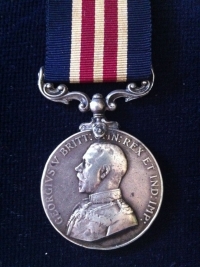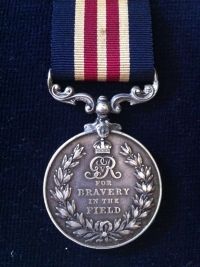 A very interesting and rarely complete story of the winning of his award.
A 2nd Lt. Angus Campbell, was in action with the No 4 Section of the 170th from October 1915 to July 1916. He was working with his men, (Including L/Cpl Thomas Langford ) in the tunnel F4 known as Bart`s Alley (all the tunnels were given British Street names) which was within a mile of the Hollenzollern Redoubt and the Fosse 8 spoil heap when his team broke into a German tunnel which was packed with explosive, primed and ready to blow. He then sent the majority of his team out of the tunnel for safety and personally disabled the German mine and slowly removed the explosive which was 2500lbs of Westfalite which was a Nobel product and used extensively in mining (he was a qualified mining engineer).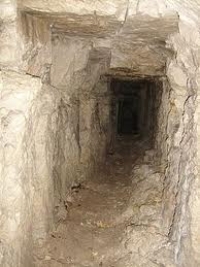 He made a detailed report with drawings because this was probably the first instance of a German mine being captured and therefore gave information to the allies as to its construction. He was awarded the Military Cross for his efforts. Campbell died of the flu epidemic in March 1919, weakened by the effects of carbon monoxidde poisoning from working in the tunnels.

In his report he commended a Sergeant Davis and Corporal Langford for their help in removing the explosive - the three of them working underground for 20 hours without a break to do so, and to set up and man listening posts.

(86119. Sgt S.J. DAVIS also received the MM)
This was the citation published in The Times of 31st May 1916 which is slightly inaccurate in that the three detonators were electric:
The following is a selection from the official records of deeds on the ground, under the ground, and in the air, for which the King has awarded honours. Many fine stories of coolness and heroism and told, but reckoned by results first place must be given to the exploit of a Sec. Lt. Campbell who gets the Military Cross.

"The Germans had dug a mine and primed it with considerably over a ton of high explosive. Only the lighting of the fuse was necessary to cause a tremendous explosion, but apparently the time for this part of the operation had not arrived, and the Germans went away to wait. Meanwhile, Lt. Campbell cut into the gallery and removed the whole of the mine charge. One can imagine there was a good deal of strafing when the Germans returned."
An extract from his report tells us about how the Germans set up the explosive:
"The charge was laid in wooden boxes of 25 Kilos each and all spaces filled with small Kilo packets. There were three detonators connected in series, each detonator was inserted in one of the small packets, one detonator on top of each charge, and the other two at the bottom."
His description of his heroic deed reads as follows:
"On discovery of the charge our next work was to find the electric leads, and on finding, them to cut them, and connect the two ends together, so that should the enemy test for continuity he would get a through circuit."

The 170th was an early and interesting unit which was formed from ex-civilian sewer workers from Manchester an ex-miners drawn from various other infantry units including 11/WELSH, 8/SOUTH WALES BORDERERS and 8/SOUTH STAFFS. (and clearly also Langford from 2/SOUTH STAFFS) They were rushed to GIVENCHY for counter operations against the enemy, and employed under the command of 2 Division on operations near Cuinchy and The Brickstacks in summer 1915. They dug and blew two mines at the HOHENZOLLERN REDOUBT in the opening of the Battle of Loos and remained in this very active area for a considerable period. In April 1918 the troops of this unit fought a large and serious fire at BETHUNE.
A very unusually complete record of the circumstances leading to the award of Langford's medal. He was also in a lot of trouble during his period of army service through at least 5 offences of being AWOL and absenting himself from duty. He received several bouts of Field Punishment No1 & 2, demotion to the ranks, CTB & loss of pay. Sgt DAVIS again features as witness in several of LANGFORD'S prosecutions. Langford was also severely Gassed (Mustard) on 27th April 1917 at HULLACH spending three months in Hospital in the specialist unit in Scotland before returning to his unit. He was placed in the Reserve in 1919.
Born in 1882 and age 32 upon joining the Army in 1914, Langford was an Iron Moulder from 17 Chappel Street, West Bromwich, Staffordshire, for the company of "Barker's Foundry", Grove Lane, Smethwick.
Barker's, which also made specialist cast brass items (including several famous British brass bells) does apparently still exist.
Also entitled to a 1915 Trio. Replacement suspender fitted.
Good Fine and clearly proudly worn by Langford during his post war life.
AN INTERESTING FURTHER RESEARCH PROJECT.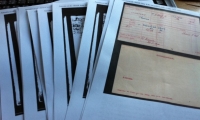 Complete with copy MIC and many pages of pension and service details.
£SOLD