A Superb, Rare and Historically Important,
DEATH PLAQUE.
(In original wooden frame)
To:
348. CSM. ELGAR E. PREBBLE. D.C.M.
of
2nd/SOUTH AFRICA INFANTRY REGIMENT
(Natal & Orange Free State) .
Awarded his postumus DCM for Gallantry at Delville Wood .
(MISSING - KILLED IN ACTION 18.7.16)
'DELVILLE WOOD'
Battle of The Somme.
ELGAR EDWARD PREBBLE
(AGED 35)
Elgar is commemorated on the Thiepval Memorial to the Missing.
Pier 4 Face 4c .

He was the son of the late Josephn & Louisa Prebble.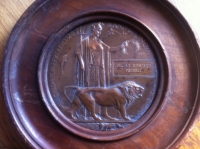 D.C.M.
(London Gazette Page 9310. 22 Sept 1916 )
"For conspicuous gallantry in action, he displayed great coolness under heavy fire , and did fine work throughout the operations "
EXTRACT FROM WAR DIARY
The Holocaust: 18 July 1916
During the night of 17/18 July the Germans withdrew from the north-west corner of Delville Wood and northern Longueval to enable their artillery to bombard the entire Wood and village. Maj Edward Burges, second-in-command of the 1st South African Infantry Regiment and commander of D Company, pushed northwards and managed to effect a junction with the 76th Brigade (3rd Division), which was similarly advancing on Longueval. The junction was to be shortlived, for; at 08h00 on 18 July the German artillery commenced firing on Delville Wood from three sides.
The bombardment endured for seven-and-a-half hours. Burning trees came crashing down, adding to the sparks and smoke of the high explosive shells.
At times the incidence of explosions was seven per second. On that day, in an area less than one square mile, 20,000 shells fell.
Frank Marillier; serving in C Company of the 2nd Battalion, was sent to the northern perimeter, as a Lewis-gunner He later provided the following eyewitness account of the day's events:
'We were holding the most advanced post in the wood. We did not realize that a couple of days earlier the survivors had been told to withdraw. In the circumstances this was understandable enough. The conditions were appalling. I have never known such shelling and how any of us lived is still a mystery.'
A RARE AND IMPORTANT PLAQUE
TO A GALLANT POSTUMUS D.C.M. WINNER
WHO FOUGHT IN ONE OF THE MOST FAMOUS ACTIONS OF
WORLD WAR ONE.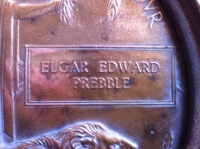 (Do YOU have CSM Prebble's D.C.M. AND TRIO of Medals ??)
(sold)