WW I "German Army" Trench or Boot Dagger
(c,1916)
by
"GOTTLIEB" of SOLINGEN"

A Superb, Rare and Original little item with 95% of its original 'feld grau' green army paint on the scabbard..
Original click-clip fastener is still present and working with what is almost certainly the original protection grease on the blade .......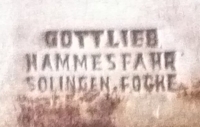 The ULTIMATE piece of Trench originality. We've never seen a better example of this type. Fit for the finest collection of Imperial German weapons.
(This surely must have been captured on The Somme and brought home)
£299
(A VERY RARE ITEM IN THIS CONDITION )
Notes on Purchase
! IMPORTANT !
Private Buyers of edged weapons not already known to us MUST provide us
with TWO trade references AND proof of age.
MILITARY TRADERS MUST FURNISH A CURRENT BUSINESS LETTER HEAD AND FULL BUSINESS I.D.
If you wish to purchase this item, please call us on 01342-870926 in the first instance.
Thank You .