A FABULOUS & ORIGINAL
"SALLY B"
(B-17)
'FLYING FORTRESS'
U.S. ARMY AIR.
WORLD WAR II ,
COMPLETE PERSONAL FLYING SET.
(1943-45)


Another rare gem grouping from my own private collection.
(Came originally from the family of a serving 8th Army Airforce member
who served in England at BURTONWOOD during the daylight high altitude US bomber offensive in WW2. This was a spare set he obtained for his family)


A TOTALLY UNUSED AND GEM MINT A-II LEATHER FLYING HEADSET WITH FULL ELECTRICS AND PLUG ...If you climbed into a B.17 this afternoon and plugged this in I guarantee it would work like the day it was made back in 1944-5. The unit is all just as the day it was issued with full labels and stamping. I've never ever seen a better or more original example than this. Totally pristine colour and stunning originality sets this example head and shoulders above anything else you will see.

:GOGGLES & LENSES IN ORIGINAL BOX
(Type B-8) By POLAROID. (c,1944)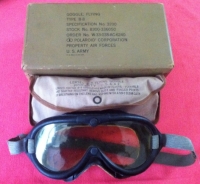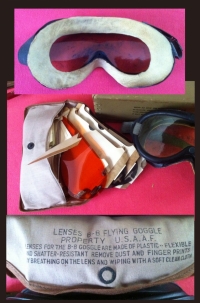 The Goggles in this set are a true miracle pair of B-8's in their original box with a totally complete set of amber tinted and coloured night and day flying lenses also housed in their original wallet with interleaves of protecting paper.Even the original users instruction and description leaflet is with them !!! I think this must surely be one of the very few totally original and complete surviving sets as I've never seen anything else even remotely close in completeness or condition.
OXYGEN MASK & PIPE WORK IN ORIGINAL BOX
(Type A-14). 1945
A totally original and unused A-14 mask in its original box. The rubber lip of the lower 'chin' area of the mask is slightly perished with a small crack having developed, but which is not distracting from the otherwise extremely attractive display quality of this rare rubber item. The other areas of the mask are just as new with full rubber flexibility and colour.

PILOTS NAVIGATION BAG , NAV' PROTRACTOR & FLYING GUIDE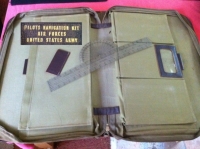 .....and finally to complete this rare and stunning assembly we have the Pilots original Zipper Nav' bag with its WW2 nav protractor . Also included is a book on the effects of flight on the human body which was issued to all US aircrew during WW2.
IF YOU ARE A SERIOUS COLLECTOR OF RARE FLYING KIT OR MAYBE A U.S. FLYING MUSEUM CURATOR WE FEEL THAT YOU SHOULD JUST BUY THIS GROUP OUTRIGHT AS I CAN PROMISE YOU THAT YOU WILL NEVER SEE ANYTHING AS TOTALLY COMPLETE AS THIS AGAIN. MOST OF THE U.S. "OPERATIONAL" WW2 GEAR WAS THROWN OUT AT THE END OF THE WAR. QUALITY MATERIAL AS NICE AS THIS IS LIKE HENS' TEETH EVEN IN AMERICA .
ONLY ONE LOT ....ONLY ONE PRICE ...WHEN IT'S GONE,.... IT'S GONE !
£2450
(Approx US$3,900)