BATTLE OF BRITAIN
(Fighter Pilot's Complete Helmet, Mask & Goggles Rig)
1938-1940
From my own private collection.


A totally superb and complete Battle of Britain Fighter Pilot's Rig.
-:Comprising:-
A 1938 "B" Type leather flying helmet, MkIV Goggles with flip shield & a super rare "D" type green cloth oxygen mask with original 'wooden switch' type leather covered microphone.
The "B" Type helmet is a Size 1 by Frank Bryan of Worcester (dated 1938) and has an original hand drawn cartoon picture of Popeye and an anti-nazi slogan,
" BLASKED NAZIS, I YAM GONER GIV YA ME OLE TWISKER ( ) !! "
written inside.

The MkIV Goggles have the ultra rare 1st Type 'locking peg' "fiddly" sun visor adjustment type which preceeded the later friction spring sub-type of the MkIVb types. One lense shows some spotting and delamination the other is 95% clear. The pads as usual are hard and chipped but the paint is very good indeed on both sides and the leather nose piece and its velvet backing are both 99% ! ....(Please Note: These are Mk4 goggles and NOT Mk 4b's which are 20 times more common)


The "D" Type mask is a truly rare item in this level of preservation and always a hellish item to locate in really nice order. (In this condition these sell on their own at £1,000 WITHOUT the 'wooden switch' type covered microphone with even rough moth eaten examples bringing c,£500- £600). The mask is in really nice almost unused condition with unfaded colour and positively no 'mothing' whatever to the outer fabric and only one tiny hole/thin spot to the inner chamoise surface.
To summerise this rig I can tell you that it's a VERY VERY RARE assembly indeed and if you are a serious kit collector or re-enactor you will know just how sought after these are and you will go a long long way before you will see anything as nice, complete and of this original quality.

HURRY .....AS THIS IS A STRICTLY "ONE ONLY" LOT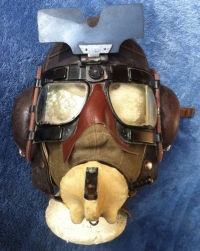 (SOLD)
(*Please remember ! We do part exchanges and swops for medals etc
on all our militaria items !)