A 'SUPER RARE' TAYLOR 'PARTIAL' PRESSURE HELMET
(R.A.F.)
1960's and 1970's COLD WAR Lightnings and Vulcans,
'HIGH ALTITUDE MISSION KIT' .

This is a sheer classic and the absolute 'top prize' for the serious flying kit collector. Normally totally unobtainable at any price.|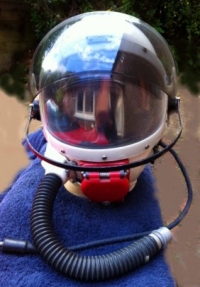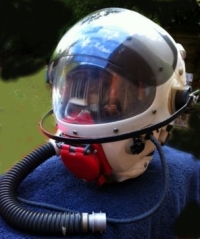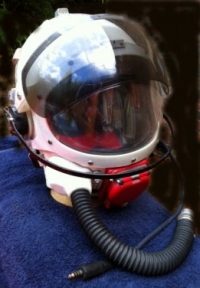 This Taylor Pressure Helmet (the complete front visor section) is a legend in the "Bone Dome" collecting fraternity. It was originally 'on charge' to the R.A.F. at an approximate development cost of about £25,000 per helmet, so these, when in service, were guarded at about the same level as the aircraft in which they were used.

The saying "Rare as Hens' Teeth goes nowhere near describing how rare these are.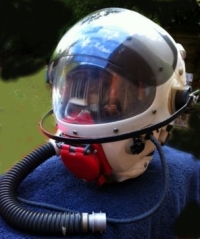 This example has a few repaired cracks to the inner and outer visors (which is almost certainly the reason it was 'struck off charge' in the first place) having been dropped at some time. The interior fibre and sponge foam padding has partially gone away with age since it was of a highly delicate, temporary and changeable construction in the first place, but all the cloth neck banding collar and the various rubber internal face and neck seals etc, and the rear zips and straps etc, are complete and totally operational.
A real classic piece of kit which is missing from 99% of jet headwear collections.This helmet is a seriously rare and totally complete example (with even the red food hatch, which you never see on even the helmets that rarely show up) this is invariably missing AND, incredibly, we also have here the communications wiring and oxygen assembly pipework to go with it !
The last example of one of those I saw was in 1979 at RAF Binbrook.
The back panels NEVER come with these helmets, even on the very rare occassions the helmets show up at all ..The ONLY complete example with back panel I've ever seen outside service in the R.A.F. is displayed in the cabin of the ground display Concorde on permanent exhibition at Brooklands.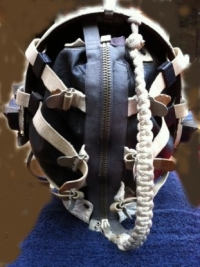 IF YOU ARE A SEROUS FLYING HELMET COLLECTOR & ENTHUSIAST
THIS IS A "MUST HAVE" ITEM.

I will almost guaratee that you will never see a more complete rig than this!
Ive only ever seen one other of these for sale anywhere in the last 25 years.
They never show up at military shows and I would not know where to go to obtain another example.
-SOLD-

ONE ONLY
" A COLD WAR CLASSIC"