GERMAN P.O.W. CAMP (Stalag 11 ?)
with British Prisoners of War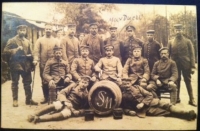 An excellent and pin sharp card showing the Staff and Guards at a GERMAN P.O.W. CAMP in World War I (Stalag11 ?) ... Camp Staff & Guards are shown with three British Prisoners, one of whom, posing in the main group shot, is a member of The Durham Light Infantry and another from a Scots regiment wearing a Scots berret. A centrally seated German Officer is pointed out with an arrow and pencil note ; 'Max Duelli'.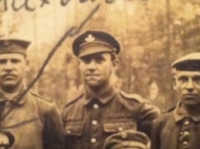 Third man from the right on the back row is clearly a member of the Durham Light Infantry and is wearing a D.L.I. hat badge and SD dress uniform.
Two more men shown standing behind the group are both smoking, one of whom is wearing a Scots Military Berret , the other bare headed, but clearly with a British style haircut must be prisoners just looking on.
Two other cards below show Max Duelli ( the central officer figure on the POW group card) who is shown as 'Gefallen in September 1917' ("Killed in Action")
(The Duelli family were from "Weingarten, Wurtemberg")
maybe someone knows the current family.
A RARE & HISTORICALLY IMPORTANT GROUP OF CARDS
(Part of a German WWI Military Card Correspondence 1914-18
Currently on Line at "MILITARIA & BOOKS" section, 'GERMAN POSTCARDS' )
£75