A FACINATING AND RARE MEDICAL FAMILY LOT
of THREE GROUPS (8)
(A Sister who served as a nurse her Father, & Sister ? )
QUEEN ALEXANDER'S IMPERIAL MILITARY NURSING
SERVICE RESERVE.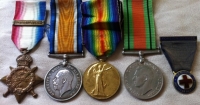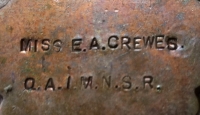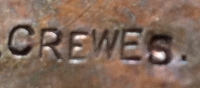 1914 Star and Bar Trio
(Nurse was in the B.E.F. and was under fire in August 1914)
To:
1914 Star & Bar: MISS E.A. CREWE(S) Q.A.I.M.N.S.R.
(SISTER E.A. CREWE(S) on pair )
Defence Medal & American Red Cross Foreign Service Medal.
Note:
The 'S' has been officially added on all three medals, having been issued in error as CREWE.
Mons Star and Bar groups are 'Ultra' rare to civilian female recipients.
(Individual Value is circa, £1,250)
1914-15 Star Trio
BRITISH RED CROSS & ORDER of ST JOHN of JERUSALEM
(Nurse)
To: E. CREWE. B.R.C. & O.S.J.J. (St J.J. on pair)
NOTE: For a long time we thought this group was an 'uncorrected' double award to the same lady as above (CREWE / CREWES), but apparently these are two different female? recipients who were clearly related (sisters?) This group should perhaps also have been returned & corected to read "CREWE(S)" as all the medals came from the same house clearance in the Gloucester area. The correct family name here is clearly CREWES but clearly, only Ms E. (Eleanor) A. CREWES (above) bothered to get her medals sent back and amended by the medal office, with the addition of the final 'S'.
This is borne out by the presence of a further War Medal and Victory Medal Pair.
to the Father of Miss Eleanor CREWE (S)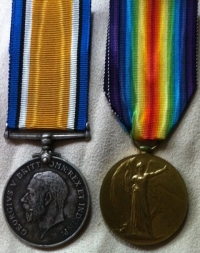 HONOURABLE ARTILLERY COMPANY (INFANTRY)
To:
11180. Pte H.J. CREWES. H.A.C. INF.
Included is a silver wrist watch (serviced & working) which is named on the reverse:|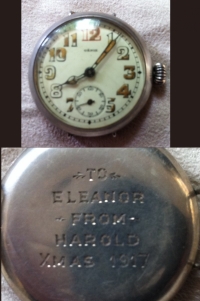 'TO ELEANOR FROM HAROLD XMAS 1917'
Harold J. Crewes is thought to be Eleanor's father.
THE ENTIRE GROUPING IS 100% MINT
A WONDERFUL ITEM FOR A MEDICAL COLLECTOR

(Sold)